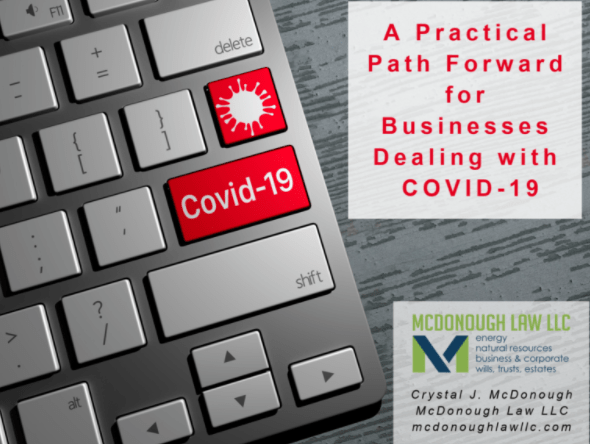 A Practical Path Forward for Businesses Dealing with COVID-19
The simple fact is we are living through a pandemic – and it's going to be with us for a while. That's our new reality. But life must go on, and needs must still be met, so the question is, 'What are we, as small business owners, going to do to move forward?
We need hope, good news, and some practical advice so that business can continue; maybe not 'as normal', but decidedly forward.
County and State Health Requirements 
Admittedly, these have been a bit of a moving target (to say the least), but health requirements are everything right now. If you don't understand (and abide by) the current health codes, your business may not be allowed to reopen or continue operations.
Every county and state is different, so I can't cover specifics, but it's essential that you stay on top of the changes, understand them, and implement them properly.
Employees, Subcontractors, and Training Policies 
It's vital that you understand all the new policies; but it's just as important that your employees and subcontractors do, too. As the owner, it's your responsibility to train them.
Some states are requiring that you make a 'good faith effort' to ensure that your employees, clients, and customers are staying healthy while they're on your watch. Taking the following steps can help you meet that legal requirement:
Require that your employees and subcontractors sign a form acknowledging that they read and agree to abide by the new health rules
Hold weekly or periodic meetings to update your staff
Arrange for professional training

OSHA
The local health department

Update your written policies
Develop hard and fast rules for what to do when an employee gets sick

Take temperatures at the beginning of a shift?
Do NOT come to work if you're sick (which should be policy anyway)
If they exhibit systems of COVID, require that they get tested

If possible, modify operations so that some employees can work from home, or alternate and scatter schedules so fewer people are in the workplace at the same time
Contract Review 
A lot of businesses have already experienced an interruption in their supply and work chain. You may be able to perform right now, but it doesn't mean all your suppliers or subcontractors can. Now is the perfect time to pull out any contracts that are relevant to your business currently and see if/what can/needs to be renegotiated. Through addendums or amendments, you can adjust the following (if needed):
Add contingency and extension of time clauses
Review or add indemnity agreements and limited liability causes
Adjust your insurance
Termination: some contracts may simply need to be terminated and redrawn
With new contracts, consider including clauses that specifically address COVID-19 (and future pandemic) interruptions. This is a way to be preventative versus reactive moving forward because the reality is, this could happen again.
Insurance Review and Update 
A lot of business owners are finding that their insurance coverage wasn't designed for a disaster like COVID-19 and claims are being routinely denied. While you may not necessarily be able to fix that, you can update your insurance now so that you're better covered moving forward. Consider adding:
Business interruption coverage
Civil authority coverage
Contingent property insurance or dependent property insurance
Business Opportunities and Expansion 
On the good news front, we are experiencing a surge of creative entrepreneurship – and it's inspiring! Business owners everywhere are shifting to expand and create new opportunities so they can continue to serve through the pandemic and beyond. This includes:
Launching an online business or an online extension of a current business
Creative supply chain opportunities (think restaurants and delivery services)
Outsourcing, freelancers, and the gig economy (this is going to be big!)
What's really exciting is that investors are looking for opportunities outside the stock market! Small business owners can take full advantage of this.
Financial Management 
Pandemic or not, financial management is key to a successful business. Right now, it's even more critical. Your income may be lower than normal, and everything is still so uncertain. As the heart of our economy and communities, it's important for you to take advantage of the programs available, like:
Paycheck Protection Program (PPP)
Economic Injury Disaster Loan (EIDL)
This is also a perfect time to sit down (or Zoom) with your CPA or accountant to review your:
Shareholder and Partnership Agreements 
Most business owners are not thinking about this right now, but you should be. Business as usual will probably never be, so we highly recommend reviewing these contracts for clauses that include hidden risks that may be triggered by the pandemic, or opportunities to improve. Examples include:
Issuing capital calls
Buy-sell agreements
Reorganization and restructuring
Business valuation
Succession Planning 
Last but not least, let's talk about succession planning. Much of what we've already discussed all leads up to this. What happens to your business, family, assets, and employees if the unthinkable happens to you? Consider reviewing your succession planning for all the following areas:
Business

Who takes over if you pass?
Does your partnership agreement cover succession?

Personal

Is your will up to date?
Does your trust need to be amended?

Employees

Consider providing success planning for your employees (they're worried right now, too, and you can give them some peace of mind)
Moving Forward with McDonough Law
Despite all the fear and uncertainty, there are a lot of positive things that businesses can do right now to protect their present and future. There are encouraging opportunities for businesses to move forward and not just survive but thrive during and after the COVID-19 pandemic.
To learn more about your path forward, or for questions about what was covered, give us a call at McDonough Law today! Let's move business forward together!